Environ Facials & Skincare
Environ Facials & Skincare
Having a perfect skincare plan is important to ensure your skin is looked after and protected for the future.
Environ facials are a beautiful way to rejuvenate your skin, leaving you feeling radiant and moisturised. Environ is acclaimed by many international skin care therapists, dermatologists, beauty editors and celebrities, here's what Sadie Frost says about the products:
"A beautician introduced me to Environ cream from South Africa. It is fantastic and not too expensive. It feeds and plumps the skin – after just one month my skin felt firmer and smoother. Kate Moss and I are completely hooked." – Marie Claire
Environ, as a brand, was created to focus on giving your skin a high dose of Vitamin A. Vitamin A plays an essential role in skin health, it helps to speed up healing, prevent breakouts and support your skins immune system. It provides natural moisture, which ensures your skin is effectively hydrated and has a radiant glow.
Environ provides a full range of professional skincare products based on active forms of Vitamin A, Vitamin C and antioxidants. These products are used in our salon during your relaxing facial. They are suitable for all skin types and will make everyones skin feel replenished.
Having a regular Environ facial and using the products in your skin care regime can combat skin problems such as premature aging, sun damage, pigmentation and scarring, leaving your skin feeling healthy and nourished. This scientific approach also stimulates collagen to soften lines, improve elasticity, increase hydration and boost radiance.

As with any other treatment we will always complete a brief consultation to ensure this treatment is best for you.
You will be taken to your glorious private treatment room, where you can relax and make yourself comfortable before your treatment begins.
During the facial a small Environ machine will be used to enhance the effects, enabling the Vitamins and antioxidants to be penetrated deeper into your skin to make it more resilient and radiant.
The machine will be moved over your face and neck sending small electrical pulses through your skin, to ensure the effects infiltrate through to the layers underneath.
Sound waves will also be used to move the vitamin molecules through the skin in smaller areas such as your upper lip, around your eyes, on any scar tissue and on any pigmentation marks.
The treatment will last around an hour and you will be left feeling fresh and rejuvenated.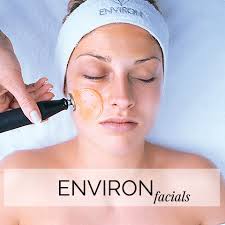 We recommend you continue your skin care with Environ products to encourage the Vitamins to continue to replenish the moisture day after day.
Environ products are not available online or in any usual store. These can only be purchased through trained and authorized skin care professionals such as La Belle. If you'd like to continue your treatment at home, please do speak with your therapist and they will recommend the best products for you to use.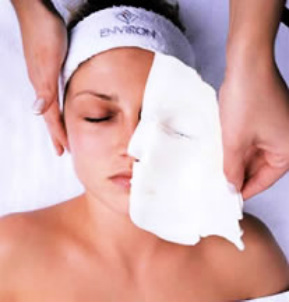 There are several different ranges of Environ products available that we can provide at La Belle. Take a look at some of those offered below…
Youth Essentia
The Youth Essentia* range provides you with the future of youthfulness, which combines powerful vitamins, antioxidants and peptides to help create healthier looking skin that glows with youthful radiance.
Products include:
Hydra-Intense Cleansing Lotion
Vita-Peptide Toner
Vita-Peptide Eye Gel
Vita-Peptide C-Quence Serum 1, 2, 3, 4 and 4 plus
Antioxidant Defence Crème
Vita-Antioxidant Defence Crème Plus
Skin Essentia
The Skin Essentia* range ensures you have beautifully radiant and healthy looking skin with the right levels of Vitamin A. This range contains a combination of vitamins A, C, and E, powerful antioxidants and other essential ingredients to assist in revealing the skins natural beauty.
Products include:
Oil Free Eye Make-up Remover
Dial Action Pre-Cleansing Oil
Hydrating Clay Masque
Mild Cleansing Lotion
Low Foam Cleansing Gel
Botanical Infused Moisturising Toner
Antioxidant and Peptide Eye Gel
Vita-Antioxidant AVST Gel
Vita-Antioxidant AVST Moisturiser 1, 2, 3, 4 and 5
Body Range
The Body Range is scientifically formulated with a combination of vitamins, antioxidants and moisturisers that work together to enhance skin's overall appearance.
Products include:
Hand and Nail Cream
Body Profile
Derma-Lac Lotion
A, C and E Body Cream
A, C and E Oil
A, C and E Enhanced Oil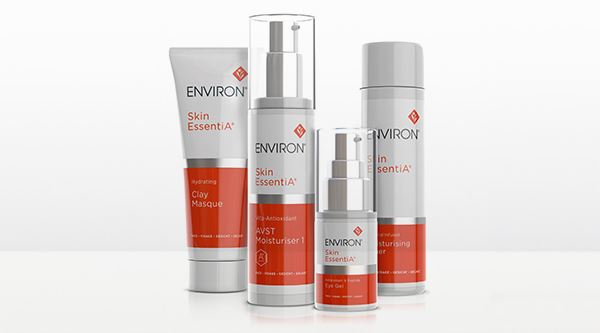 Environ Facials & Skincare can be purchased via La Belle Worthing & Shoreham by Sea
If you can SQUEEZE it, we can FREEZE it!!!
** Available at La Belle Shoreham Only**
Do you ever feel like you need to reduce fat around any particular areas of your body??
Remove 30% of your fat cells in these areas with a new and effective, non-evasive treatment, Fat Freezing.
Non evasive treatments are becoming more and more popular and the A-List celebrities know just what works, as Fat Freezing hasn't gone un noticed within the celebrity crowd. Fat Freezing has been successful with many, including Khloe Kardashian, Olivia Munn, Jennifer Aniston and Lindsey Lohan.
They chose to have this non-evasive treatment as it helps to reduce fat cells in those hard to shift areas. It's also incredibly low risk and highly effective.
Fat Freezing or Cool Sculpting are the non-surgical terms for Cryolipolysis.
Þ Cryo means icy cold
Þ Lipolysis means breaking down of fat
That is exactly what this treatment can do for you. This new, innovative technique was only discovered in 2012 and has proven extremely popular ever since as results are impressive and long-lasting.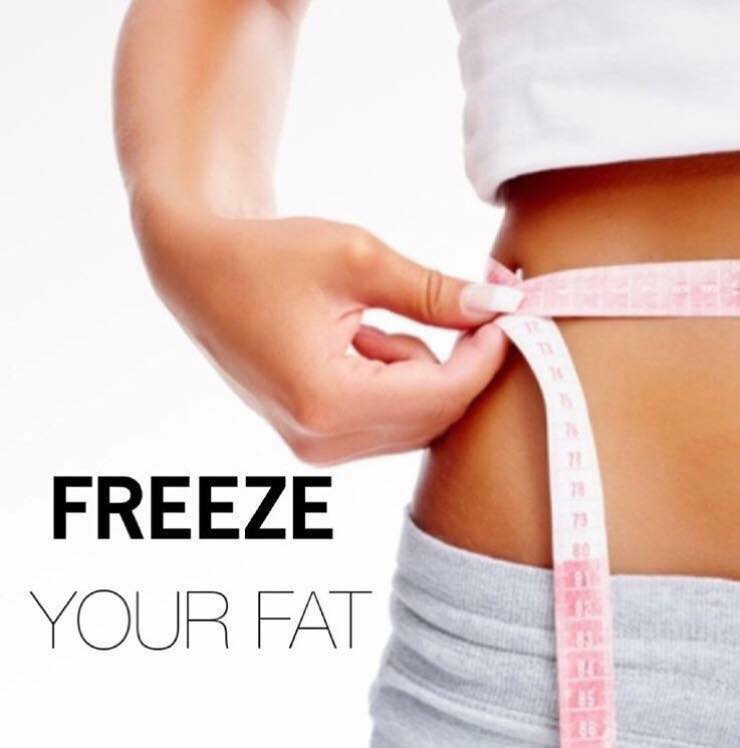 Consultations are provided immediately before the treatment to ensure it's right for you. This will also help us to understand which areas of your body you're looking to reduce fat. There are several areas where this can work including your stomach, buttocks, thighs and back. 
Following your consultation, you'll be taken to your private room where we'll prepare the particular area for treatment. You'll be able to relax on our luxurious treatment beds during the procedure and we'll place an anti-freeze membrane across that chosen area which protects the skin and ensures there is little or no redness or bruising once the treatment is complete.
Once you're ready the cooling cups will be placed on this area, you're able to have up to four cups at any one time.
During the treatment a suction pad is used to suck the skin, this creates a cooling sensation which will eventually go numb and minimise any initial discomfort. Although you shouldn't feel much at the beginning, except for a light tugging sensation. The temperature is continuously monitored and will be between -11 and 5°C.
Whilst the cups are on your body, they will be working to freeze the fat cells in that particular area. These cells are completely destroyed and then absorbed and processed through your body and flushed out through your liver.
This full process does take some time as your body needs to remove these destroyed fat cells. Results tend to occur between 2 and 12 weeks after treatment and results should be obvious.
Normal daily activities can continue immediately after you have the treatment. There will be no downtime as the procedure is non evasive and
unlike other procedures there is no damage to skin, nerves, blood vessels or other tissues. The risk of regaining weight is very minimal as the fat cells are totally destroyed and removed from your body, ensuring amazing long-lasting natural results.
Following the treatment, you should continue to drink 2-3 litres of water a day and ensure you keep your healthy diet.
We recommend you continue with further treatments to complete a full course, three treatments evenly spaced over 3-4 months provides you with a full effective course to continuously remove 30% of those fat cells following each treatment.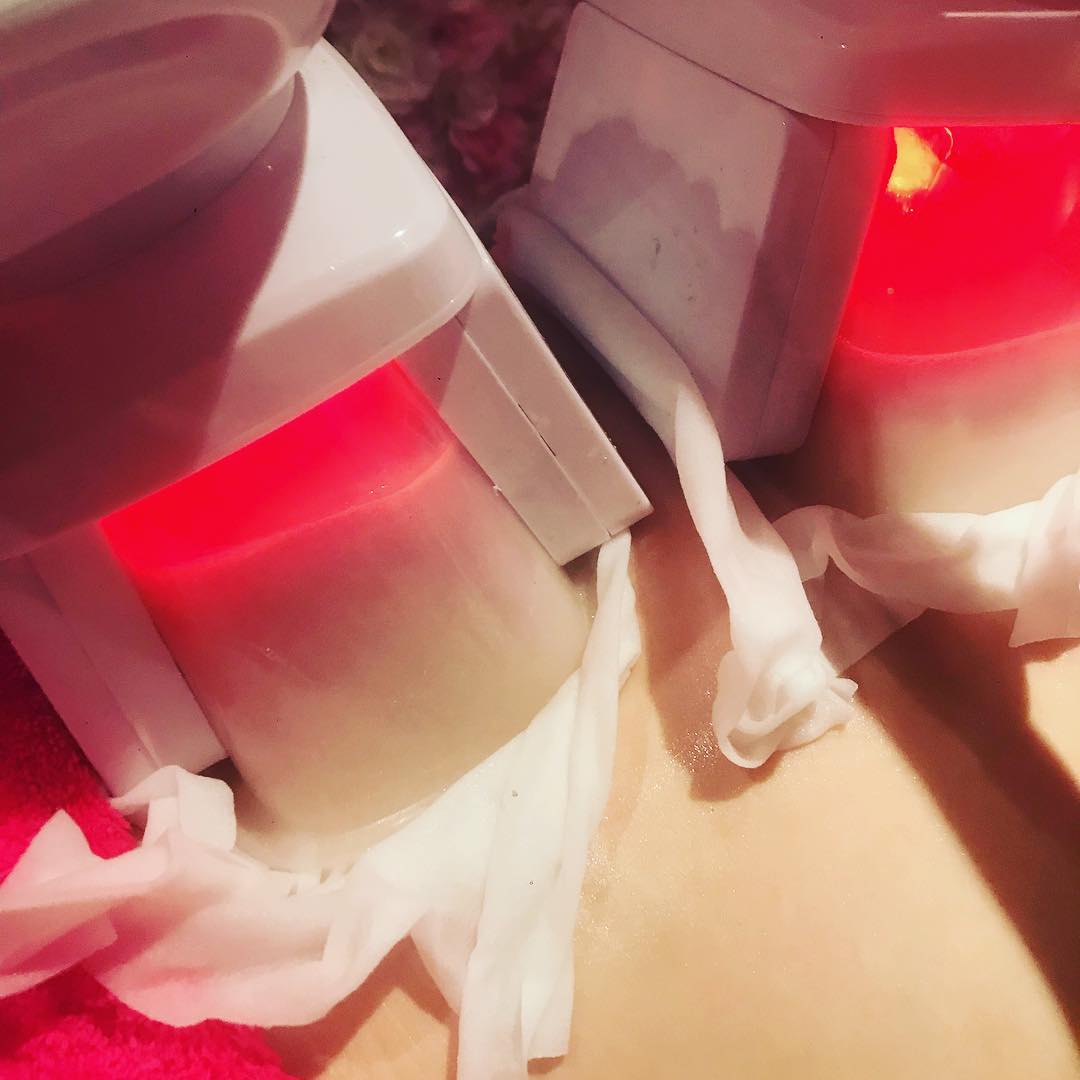 To book your Fat Freeze Appointment in  Shoreham call – 01273 441161
Direct Debit VIP Membership Scheme!
Who Needs a Gym Membership when you can have a Beauty Membership!
We understand exactly what women want, and we know you'll love our new VIP Beauty Membership. Our VIP Beauty Membership is designed with our wonderful, regular clients in mind to ensure you have a luxurious lifestyle and live like the celebrities.
For just £99 a month you can have unforgettable experiences, visiting our glamorous salons in Worthing and Shoreham for four glorious treatments. Our fantastic therapists will ensure you have the most remarkable time and are treated like a princess throughout.
Every month you can have four treatments for just £99 saving up to £46 every single month as well as the brilliant option to take advantage of the added bonus of 10% off every further treatment* and all retail products.
We guarantee you'll love the ability to indulge each and every month without thinking of the cost, knowing this has already been taken care of and was paid like any usual Direct Debit. You no longer have to wonder about payment each time you enter the salon, you can relax and enjoy yourself. Whether you need to top up on your usual beauty essentials or you have special occasions planned our beauty membership is perfect for you.
If you're used to monthly spray tans, shellac application or nail extension infills, eyelash extension maintenance and waxing or you just love to treat yourself regularly, then you can save a plethora of money throughout the year by taking advantage of the VIP Beauty Membership.
If you've had a hectic few weeks and you need to rejuvenate, you can choose to relax and be pampered in our luxurious treatment rooms in our salons. Make the most of a Therapeutic Back Massage, an Aroma Facial plus a Classic Manicure and Pedicure. All of which can be taken with our VIP Beauty Membership.
A fun girls night out is the perfect excuse to for an exciting and captivating makeover.
Henna Brows, Russian Lash Infills, St Tropez Express Spray Tan and a Shellac Application, are some amazing treatments to choose together to make you feel incredible on your special occasion.
Holidays are a great time to be beautified, ensuring you're ready to bear all, in those gorgeous dresses and bikinis. With the VIP Beauty Membership, you could choose to take advantage of a Half Leg and Bikini wax, HD Brows and Shellac Application on Fingers and Toes.
Cherish your body every month with four amazing treatments to make you feel fabulous, whether you choose to take them all together to prepare for that special occasion or whether you spread them out across the month to treat yourself each week.
Choose four treatments of your choice per month for £99
If you regularly treat yourself to beauty treatments or you want to spend that extra time to feel your best each month then the VIP Beauty Membership is perfect as each and every option will save you money. Throughout the whole period you're a member of our VIP club you'll always be feeling fantastic and whenever you have that unexpected call for a fancy treat, you'll be prepared.
All you need to do is book your treatments in advance to ensure the availability is there for your preferred date and time.
Every month you can choose the treatment that suits you best for that month and each time the treatments you choose can be different, whether you select to relax and enjoy a massage or grace yourself for a special occasion.
Choose four of the below treatments for just £99 per month:
Shellac Application

Shellac Soak Off and Re-application

Classic Manicure

Classic Pedicure

Shellac Application on Toes

Shellac Soak Off and Re-application on Toes

Nail Extension Infills

St Tropez Classic Spray Tan

St Tropez Express Spray Tan

HD Brows

Henna Brows

Classic Lashes Infills

Russian Lashes Infills

Eyelash Tint and Eyebrow Tint

Hollywood Wax

Brazilian Wax

Full Leg Wax

Half Leg Wax and Underarm Wax

Half Leg Wax and Bikini or Extended Bikini Wax

Lip, Chin and Eyebrow Wax

Therapeutic Back Massage

Deep Tissue Back Massage

Indian Head Massage

Aroma Facial

Beauty Flash Microdermabrasion Facial

Dermaplaning Facial
Don't forget you will also gain 10% off all other beauty treatments and retail products
For full terms and conditions click here!
Lash Lifting Blog
Keeping our beauty regime up to speed is important to many ladies (and men). Making sure your nails are perfect, your skin is firm, and your wrinkles are as reduced as possible. Eyelashes are also becoming something to take care of on a regular basis. Whether you want them long or more curled, it's important to ensure they are looked after correctly.
Having your eyelashes treated can make them longer, more curled but also help your eyes to stand out more, look bigger and more defined.
At La Belle Beauty in both our Shoreham and Worthing salons we offer several types of eyelash treatments, one of which is the lash lift and tint. I'd like to show you what takes place during this type of treatment so you can be prepared for your appointment when the time comes.
Before Your Treatment
Prior to this type of treatment you will need to have a patch test; the patch test is a simple and easy way to see if you have a reaction to any of the solutions required. It takes just two minutes for us to test three different products behind your ear and you need to leave these on for at least 24 hours. In the majority of tests most people don't have any reaction and we can go ahead with the treatment. It's always best to be on the safe side, especially when these products are going to be around your eyes and face.
Always ensure you arrive at your appointment with your eyelashes clean and free from any oils, makeup or creams, this is to ensure the solutions are applied to your lashes without anything getting in the way.
There are three different sized rollers that can be used to shape your eyelashes, these work differently depending on the length of yours. All beauty therapists completing your treatment will offer you the best advice on what will work best for you. The smaller the roller the more curled your eyelashes will be, however if your eyelashes are very long it may be best to go with a bigger roller.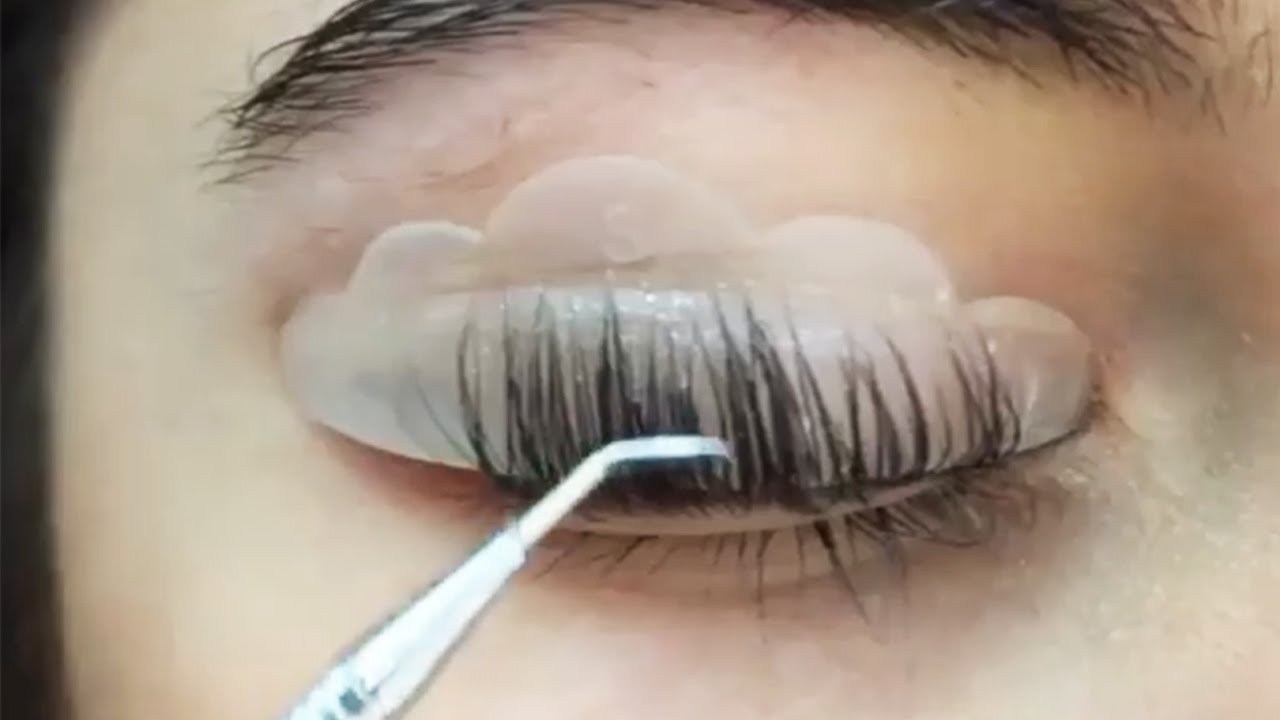 For the treatment you'll be in one of our luxury private rooms where you can relax whilst the beauty therapist is working her magic. 
You'll lie down and relax on the opulent bed for the whole of the treatment and we use Elleebanna Lash Lifting products.
Step 1
A pad will be placed underneath your eyes to cover the lower lashes to ensure none of these are caught up in the perming solution and curved the wrong way. The roller will then  be glued to your eye lid and your eyelashes curved over the roller and placed in the correct position to enable them to curl in the best way. This step will only take a couple of minutes. None of this is painful or uncomfortable in the slightest.
Step 2
Once your eyelashes are in a perfect position the perming solution is applied to the roots of the lashes using a small brush, this solution stays on for around 7 minutes.
You may sometimes feel like you want to open your eyes, however we will ensure you are as relaxed as possible and talk you through the steps if you have any worries.
Step 3
This perm solution is then removed, and the setting solution applied to ensure the curl is set in place. This can take a further 5 minutes.
Step 4
Once the curl is set on the lashes it's then time to complete the tint. The lower lashes will always be tinted first and then the upper lashes. The tint is only required to be on your lashes for a couple of minutes due to the lashes being porous after the lash lifting solution.
Following the tint, the whole treatment is complete. The roller and the pad is removed and you can take a look in the mirror at your beautiful new curled and tinted lashes.
You should see a difference in your lashes immediately and hopefully feel like you don't need to wear as much mascara for the next few weeks.
Follow Up Treatment
You need to continue caring for your lashes for the next couple of days as you can't wear mascara for 24 hours or get them wet for 48 hours. You should adhere to these instructions as this will ensure your lash lift and tint lasts as long as possible.
Your eyelashes should remain curled and with the tint for 6-8 weeks. Following this another treatment can be booked.
If you're unsure about having eyelash extensions, then this is the obvious choice to begin with. It's quite a relaxing treatment and you open your eyes with brand new striking eyelashes.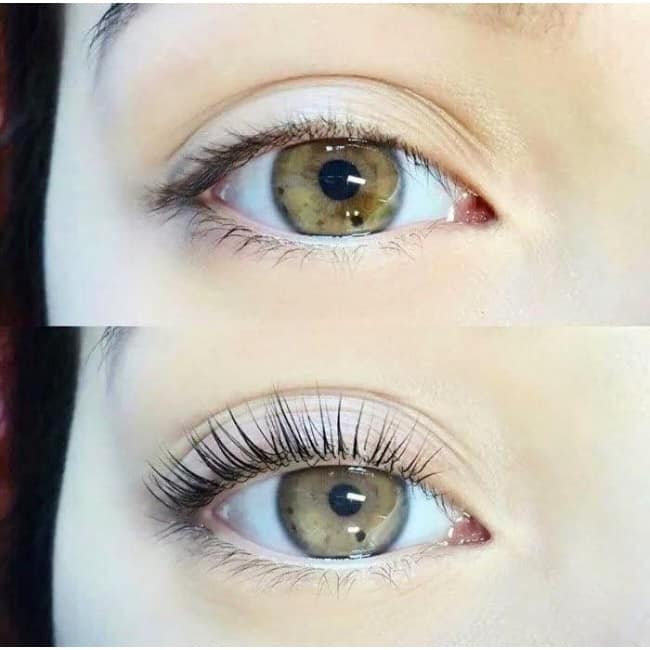 To book your a Lash Lift & Tint appointment click here or call us on Worthing- 01903 239177 / Shoreham- 01273 441161