Environ Facials & Skincare
Environ Facials & Skincare
Having a perfect skincare plan is important to ensure your skin is looked after and protected for the future.
Environ facials are a beautiful way to rejuvenate your skin, leaving you feeling radiant and moisturised. Environ is acclaimed by many international skin care therapists, dermatologists, beauty editors and celebrities, here's what Sadie Frost says about the products:
"A beautician introduced me to Environ cream from South Africa. It is fantastic and not too expensive. It feeds and plumps the skin – after just one month my skin felt firmer and smoother. Kate Moss and I are completely hooked." – Marie Claire
Environ, as a brand, was created to focus on giving your skin a high dose of Vitamin A. Vitamin A plays an essential role in skin health, it helps to speed up healing, prevent breakouts and support your skins immune system. It provides natural moisture, which ensures your skin is effectively hydrated and has a radiant glow.
Environ provides a full range of professional skincare products based on active forms of Vitamin A, Vitamin C and antioxidants. These products are used in our salon during your relaxing facial. They are suitable for all skin types and will make everyones skin feel replenished.
Having a regular Environ facial and using the products in your skin care regime can combat skin problems such as premature aging, sun damage, pigmentation and scarring, leaving your skin feeling healthy and nourished. This scientific approach also stimulates collagen to soften lines, improve elasticity, increase hydration and boost radiance.

As with any other treatment we will always complete a brief consultation to ensure this treatment is best for you.
You will be taken to your glorious private treatment room, where you can relax and make yourself comfortable before your treatment begins.
During the facial a small Environ machine will be used to enhance the effects, enabling the Vitamins and antioxidants to be penetrated deeper into your skin to make it more resilient and radiant.
The machine will be moved over your face and neck sending small electrical pulses through your skin, to ensure the effects infiltrate through to the layers underneath.
Sound waves will also be used to move the vitamin molecules through the skin in smaller areas such as your upper lip, around your eyes, on any scar tissue and on any pigmentation marks.
The treatment will last around an hour and you will be left feeling fresh and rejuvenated.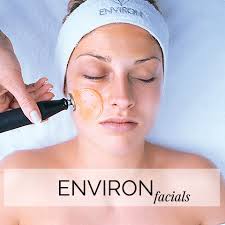 We recommend you continue your skin care with Environ products to encourage the Vitamins to continue to replenish the moisture day after day.
Environ products are not available online or in any usual store. These can only be purchased through trained and authorized skin care professionals such as La Belle. If you'd like to continue your treatment at home, please do speak with your therapist and they will recommend the best products for you to use.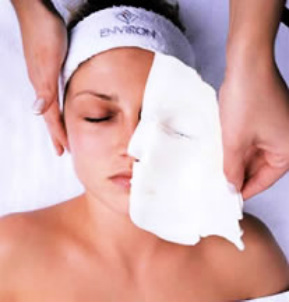 There are several different ranges of Environ products available that we can provide at La Belle. Take a look at some of those offered below…
Youth Essentia
The Youth Essentia* range provides you with the future of youthfulness, which combines powerful vitamins, antioxidants and peptides to help create healthier looking skin that glows with youthful radiance.
Products include:
Hydra-Intense Cleansing Lotion
Vita-Peptide Toner
Vita-Peptide Eye Gel
Vita-Peptide C-Quence Serum 1, 2, 3, 4 and 4 plus
Antioxidant Defence Crème
Vita-Antioxidant Defence Crème Plus
Skin Essentia
The Skin Essentia* range ensures you have beautifully radiant and healthy looking skin with the right levels of Vitamin A. This range contains a combination of vitamins A, C, and E, powerful antioxidants and other essential ingredients to assist in revealing the skins natural beauty.
Products include:
Oil Free Eye Make-up Remover
Dial Action Pre-Cleansing Oil
Hydrating Clay Masque
Mild Cleansing Lotion
Low Foam Cleansing Gel
Botanical Infused Moisturising Toner
Antioxidant and Peptide Eye Gel
Vita-Antioxidant AVST Gel
Vita-Antioxidant AVST Moisturiser 1, 2, 3, 4 and 5
Body Range
The Body Range is scientifically formulated with a combination of vitamins, antioxidants and moisturisers that work together to enhance skin's overall appearance.
Products include:
Hand and Nail Cream
Body Profile
Derma-Lac Lotion
A, C and E Body Cream
A, C and E Oil
A, C and E Enhanced Oil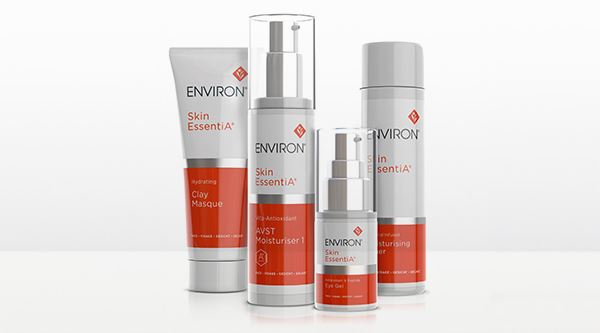 Environ Facials & Skincare can be purchased via La Belle Worthing & Shoreham by Sea
Environ Facials
Advanced Active Vitamin Treatment- £80- Book Online in Worthing or Shoreham
Active Vitamin Treatment- £65- Book Online in Worthing or Shoreham
Hydraboost Treatment- £80- Book Online in Worthing or Shoreham
Collagen Power- £80- Book Online in Worthing or Shoreham
Cool Peel- £65- Book Online in Worthing or Shoreham
Environ & CACI Combined- £130- Book Online in Worthing or Shoreham