We are the first beauty salon in the world to launch the Wavestone massage!
The Wavestone Massage is the first type of its kind created, not only to stimulate, heal and relax the muscles but also to allow your therapist to provide a massage with profound results without it being as damaging to their hands and upper body.
The Wavestone is revolutionizing the world of massage, as it requires less pressure from your therapist therefore benefiting them by reducing stress and strain on hands, allowing them to work as a therapist for longer and more efficiently.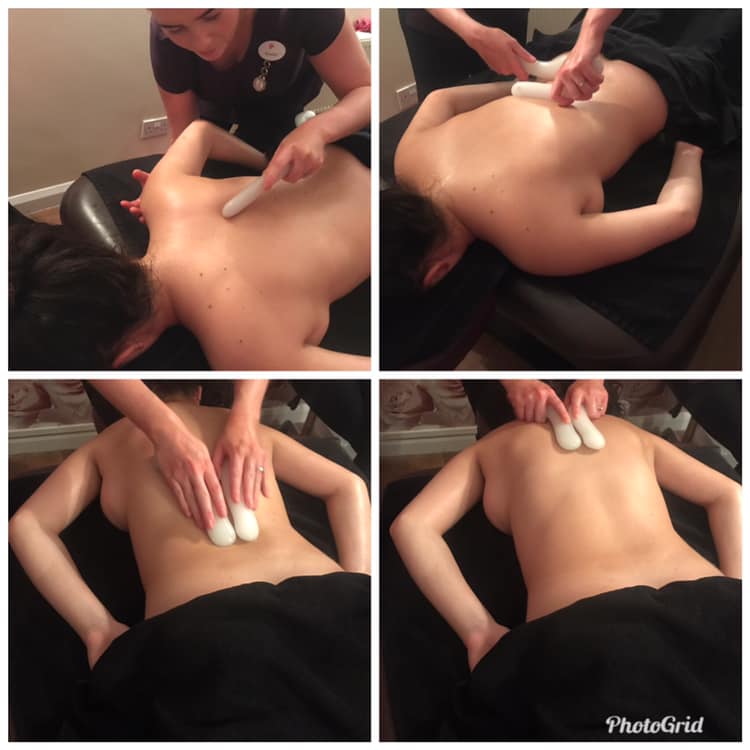 The Wavestone Massage is one of a kind, using a special Jade Stone in a specific shape to follow the contours of the body's muscles. The Wavestone is carved by hand from white jade, it feels soothing on the skin whilst being used during the massage. The jade contains vital minerals, calcium, magnesium and water which is traditionally believed to heal stressed organs, fight cell ageing and strengthen the body's natural defenses.
The Jade Wavestone has naturally rounded ends to ensure deep massage around trigger points such as shoulders and neck. It can be heated or cooled naturally with water and retains the heat longer than stones used for a Hot Stone Massage.
Prior to your massage the Wavestone will be heated, cooled or used at room temperature depending on the reason for the massage or your preference.
During your massage pressure will be applied along the contours of your muscles using the Wavestone. The Wavestone will be moved continuously over your body to provide you with a relaxing, deep massage.
This massage can reach muscles in your body that your therapists' hands may not have been able to access as easily without the tool.
Your muscles will be warmed faster with the Wavestone than conventional massage strokes, ensuring that the Far Infrared penetrates your body deeper than in other massages.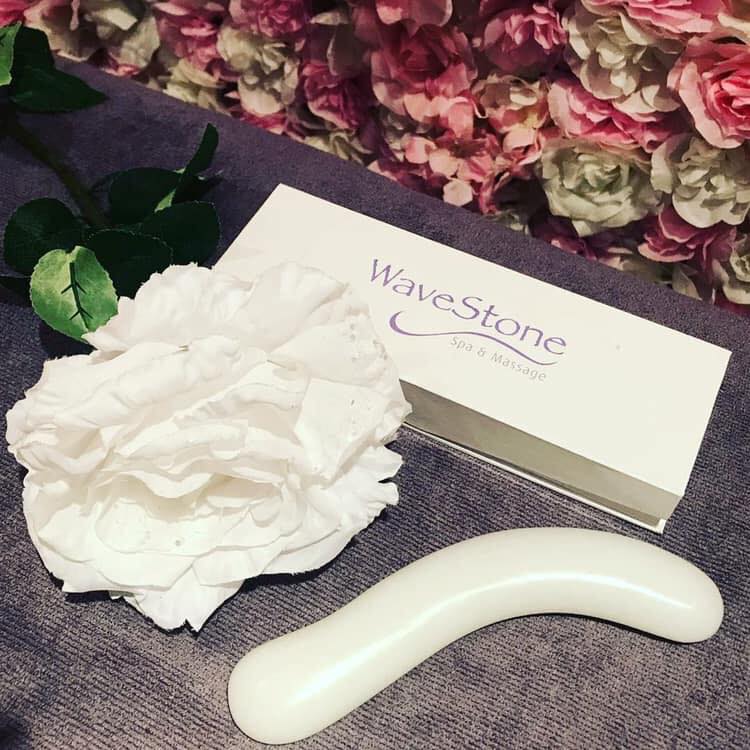 The full massage will stimulate the circulatory system to promote self-healing, it softens and relaxes the muscles using Far Infrared, whilst encouraging the release of toxins. The massage helps to relieve pain and muscle spasms.
Far Infrared is invisible waves of energy that have the ability to penetrate all layers of the body, they can penetrate into the inner regions of tissue, muscle and bone. By increasing the temperature of the body, the functioning of our body can vastly improve. Far Infrared therapy very gently increases blood flow to detoxifying the body. This detoxification is on the deepest level, allowing hidden toxins in the blood and tissue to be dissolved or immobilized.
Adrian Jenkinson is the inventor of the Wavestone and says, "While I would never say that therapists should stop using their hands, they should look after them very carefully – after all, they are the key tools of their trade. The real advantage of the WaveStone is that, properly used, it can treat the majority of conditions and, in addition, the client benefits from an enhanced experience, not least the fact that the stone retains heat or cold for a significant period"  
Wave Stone Massage is available at La Belle Worthing & Shoreham
Wave Stone Back, Neck & shoulders – 40 minutes- £50
Book Now in Worthing or Shoreham
Wave Stone Full Body Massage- 70 minutes- £75
Book Now in Worthing or Shoreham